I have a vivid memory of watching a nurse swaddle my newborn son in the hospital and my mind was blown. WHY IS SHE MANHANDLING MY BABY LIKE THAT…WHAT DO I NEED TO DO TO ACQUIRE THESE SKILLS…OH MY GOD IS SHE HURTING HIM….THANK YOU JESUS HE STOPPED CRYING…CAN SHE COME HOME WITH ME PERMANENTLY …TEACH ME.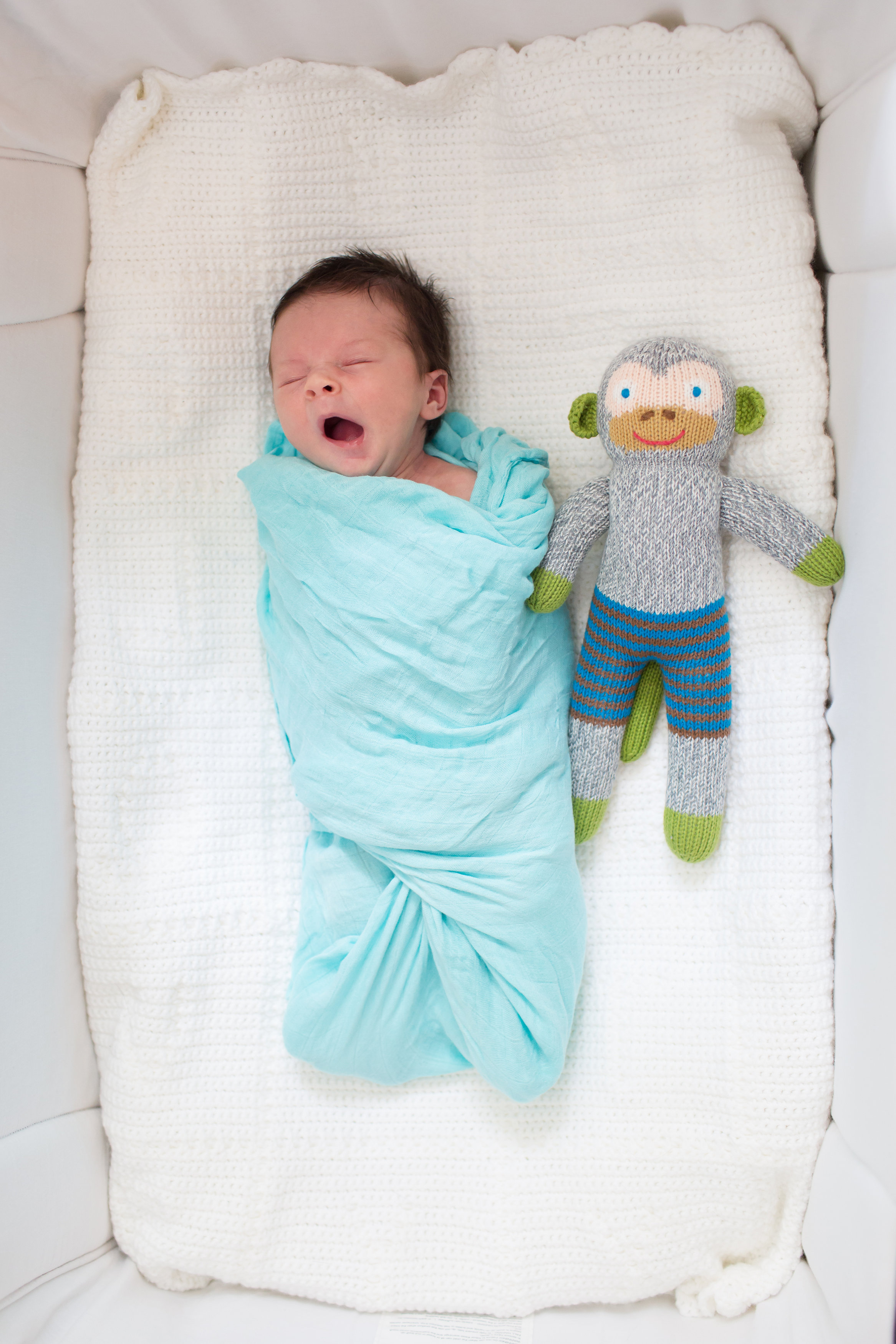 My thoughts were all over the place. Up until that point, I had never in my life given even a second's thought to what it meant to swaddle a baby or how you do it. Yes, I always saw those ubiquitous blue, pink and white blankets wrapped snuggly around newborns…but I didn't realize the origami magic that went into those bundles. But when I saw this nurse calm my fussy newborn almost instantly, I knew I needed to learn what she just did.
I mean…how hard could this be? Well, for me...swaddling was hard. (I know what you are thinking...SERIOUSLY???) You know how you have that MacGyver friend who can fix a popped button with a piece of gum and an earring back and not even think twice ( I have a friend who did that for me once while we were out and to this day she is at Messiah status in my book)...well that's the gene that I am missing...and I swear that gene either makes you a natural born swaddler...or not. I am firmly in the NOT camp. Swaddling my infant took a lot of practice for me. And my husband was a natural (of course he was...) Isn't it terrible that not even two hours into being a mom, I had a slight feeling of inadequacy because apparently I wasn't a natural-born swaddler. Thankfully it was only fleeting but I felt like someone was tapping me on the shoulder saying welcome to motherhood.
You will be glad to know, I did get better but it was definitely one of those things where every time I started a swaddle I was amazed at myself when it actually worked. I always felt like giving myself a selfie high-five. And if he stopped crying after I swaddled him? FORGET about it. Bust out the champagne. Yet, no matter how many time I did it, I just never felt like I was a pro at it. I even bought those blankets that were essentially prepackaged swaddles… I called them swaddles for dummies…but I still felt like I could get a better fit using a light weight muslin blanket. My son loved the swaddle and it really was a go-to pacifier for us in those early stages of infantdom but I was thrilled when we were finally able to graduate to a sleep sack.
And because I remember tearfully searching for a SHORT VIDEO on how to swaddle when I was in the throes of new mommyhood and repeatedly coming up short...I decided to make one. The video does require a bit of visual homework as my 18-month-old "baby" is well past the swaddle phase...so I am swaddling a stuffed dog. Happy swaddling moms!
HOW TO SWADDLE YOUR BABY: https://www.youtube.com/watch?v=e9sD4TBAsH4
This post comes from the TODAY Parenting Team community, where all members are welcome to post and discuss parenting solutions. Learn more and join us! Because we're all in this together.