Why You Should Ditch Your Birth Plan
This article might spark some controversy, but just hear me out. You should ditch your birth plan. I'm not speaking out of anger or bitterness or disappointment; quite the contrary. I'm coming from a place of love, understanding, and concern. I've been apart of a lot of different parenting advice and support groups for the last 5 years. The groups range from typical parenting advice groups, to more complicated ones that involve certain diagnoses, including ones that I had during pregnancy as well as postpartum. Often times I see posts from frightened first time moms-to-be, particularly in the groups where a diagnosis affecting the baby in utero is the main focus. Desperate for advice and to find the answers they want to hear, these moms ask for others to share their birth stories and experiences, hoping that the weighted average will give them the outcome of their intended birth plan. I understand and appreciate the fear of the unknown, but often times they are overlooking the health and safety of their unborn baby and focusing solely on sticking to their birth plan.

Take a peek into any moms group and you will find moms who have planned their pregnancies to a T. They eat healthy, take their prenatal vitamins, rid their homes of any toxic chemicals, and develop the most organic and natural lifestyle possible. When they finally get that positive pregnancy test result, they are glowing with excitement and begin to drift off into a daydream of how their perfect pregnancy is going to progress. They commit to a daily exercise regimen to ensure that their weight gain is within the prescribed range. They envision and plan that their water will break effortlessly at home and they will calmly arrive at the hospital to begin laboring. They will refuse medication or an epidural, as they want this to be a natural labor and don't want their baby "drugged" when they arrive into the world. They have a strong opinion about having the baby placed on their chest immediately after it is born so that they can have skin-to-skin contact and begin nursing. They have an organized schedule of who will be present in the delivery room, with strict rules about who the first visitors will be, what outfits the baby will wear while in the hospital and on the day they come home. They have a birth photographer lined up to document the delivery and stage photos of the newborn while in the hospital. Another shoot will follow at home a week later with props that accompany a planned theme. Many will opt for a doula and a midwife, and even a water birth. Some will insist on a home birth so that they can be in the comfort of their own bed. Others know from the get-go that they want an epidural because they don't want to feel any pain. The select few wish for a c-section, maybe so their hoo-ha stays intact, I don't know?
In a perfect world, pregnancy would be effortless and our ankles wouldn't swell. We wouldn't have sweat dripping down the back of our knees or feel like a fire-burping dragon. Our hair would be permanently shiny and vibrant and our skin would always glow radiantly. But alas, the world is not perfect. Life is not perfect. No matter how much planning we do.
My heart breaks when I read comments of moms who are so firmly planted in their beliefs and positions that they fail to realize any alternative that may be out of their control. They unapologetically inflict their strong opinions on others, some of whom have no choice as to how their baby will enter this world. It snowballs into a heated argument that quickly goes south and results in personal attacks. This needs to stop. We need to stop. We all need to put ourselves in each other's shoes. We need to pause and think about all possible scenarios and how they may impact others' feelings before giving advice, particularly if it is unsolicited. We need to be realistic.
You are not a failure if you have a c-section. You are not a failure if you succumb to the pain and request an epidural. You created a human being. No matter how long that baby (or babies) stayed inside and no matter how they entered the world, don't lose sight of the fact that you and your body did something pretty freaking amazing. No one should be made to feel less than for how they delivered their baby.
I had a loose idea of what I wanted my birth plan to be. I knew from the beginning that twin pregnancies come with inherent risks. After discussing twin pregnancies and births with my doctor, I learned that full gestation for twins is considered to be around 37 weeks. I also learned that prematurity is a high risk with twin pregnancies. We set an overall very lax goal and birth plan: get to 36 weeks and see if the twins are both head down. If they were both head down, I could try for a vaginal delivery. Operative word being "try." If either one of them were breech, we'd do a c-section. I didn't want to deliver the first one vaginally and then have to have a c-section if the second baby was breech or transverse. I can't think of any human being on earth that would voluntarily elect to have both a vaginal delivery and a c-section all at one time. That is some sadistic stuff.
At 30 weeks, Baby A (on the bottom) was head down and Baby B was transverse. The doctor cautioned that either baby could turn and there was no guarantee for a vaginal delivery. Additionally, if both were head down and Baby A were delivered vaginally, Baby B could turn once Baby A was out, because it would have more room to flip. So many scenarios. At 31 weeks, I failed my non-stress test and baby A was diagnosed with IUGR: Intrauterine Growth Restriction. This meant that the baby had stopped growing from its last growth scan at 30 weeks until now, at nearly 32 weeks gestation. The babies had to come out. When the doctor came in and told me the news, I quickly digested it and turned to her and said, "let's do this." I had an emergency c-section and they were born two minutes apart. I got a brief moment with them both at my head before they were whisked away to the NICU, where they were hooked up to monitors and machines and would spend 3 weeks and 2 months, respectively.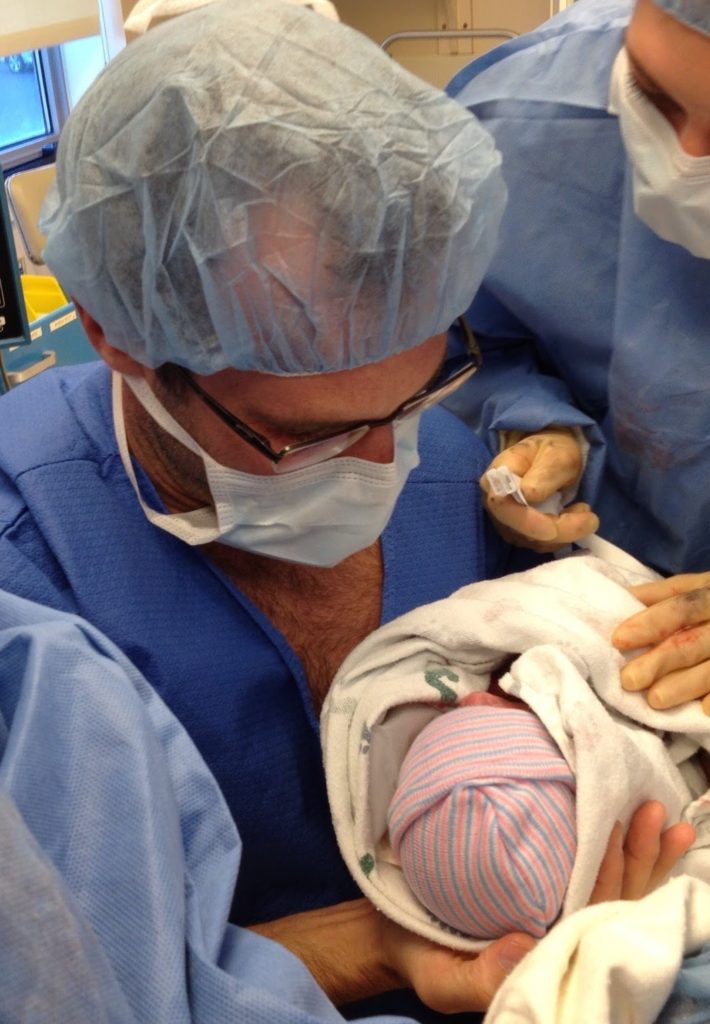 If I had been hell bent on sticking to a birth plan, my babies would have suffered. The exact words of the neonatologist were "the babies are better off out than in." He was right. It took time and patience, but they are both thriving.
My point is this: first time moms-to-be often lose sight of the end goal-a safely delivered baby. Yes, recovery from a c-section is painful. But guess what? If the doctor is telling you that the situation is concerning and the safest way for the baby to be born is via c-section, take his or her advice. Don't put yourself or the baby in unnecessary risk of harm. So the birth plan goes out the window. So your vision of a perfect delivery gets muddled. This is not life altering. Safely delivering a baby is. You will have many beautiful moments and plenty of photo-ops with your new baby. It may not be how you envisioned it, but with some improvisation and creativity, you will have a lifetime of keepsakes and memories that you weren't expecting and probably cherish more than the ones you dreamed of.
Life happens and you have to roll with the punches. Sometimes straying from your intended plan teaches you the most important lesson and gives you the biggest gift. A gift you never imagined would change you forever and in the best way possible.
© Copyright 2018 Twinstant Gratification, LLC
This post comes from the TODAY Parenting Team community, where all members are welcome to post and discuss parenting solutions. Learn more and join us! Because we're all in this together.